How to Buy

| | |
| --- | --- |
| | Read the item description carefully |
| | Check the seller's feedback |
| | Check the item weight from description or contact us for help |
| | Go to Fee Calculator to self-estimate the international shipping fee |
| | Be aware of all potential, but unlikely, risks of international shopping, such as flawed items or authenticity issue |
| | Consider insuring your items |
| | Don't hesitate to ask us any questions or assistance |
Select a Recommended Shopping Site
Mogan Shopping integrates the most famous Japanese shopping sites, all on one convenient platform. Our selected malls are Rakuten and Yahoo Shopping. If you did not find your desired item, you can visit our mall directory by clicking the 'Other' tab and using our 'buy for me' request form.

Please be careful when reading each item page before you buy to understand all applicable conditions. Below are some tips to help you buy smartly, securely and conveniently.
Add to Cart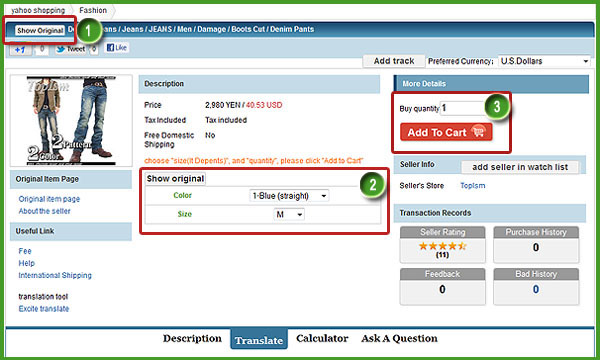 Select your preferred shopping mall, located above the search engine.
Click the translation button to learn more about the item.
Some items such as shoes, clothing offer customization on size and color.
Enter item quantity and click the 'Add to Cart' and continue or review your cart.
Note
Purchasing orders will be held Monday to Friday from 1:00 pm to 9:00 pm, unify purchasing orders , if the merchandise is limited quantity or has to be ordered instantly please call and inform the company's services commissioner.
Review & Confirm your cart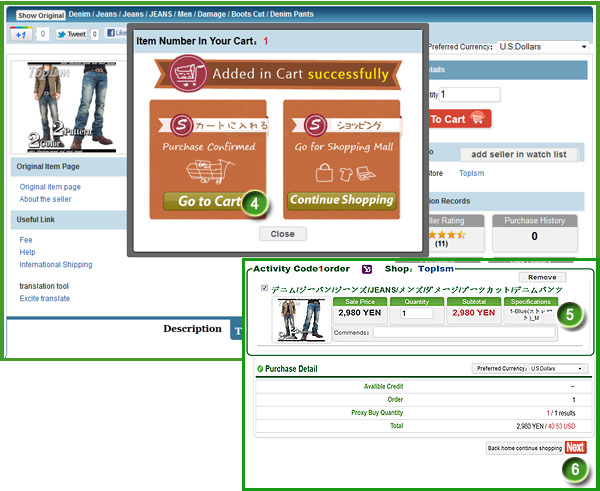 Once you have finished adding items to your Shopping Cart.
Review your shopping details such as quantity, size, item name, etc. by clicking on your shopping cart.
Check your odered items in your shopping cart. If all the details are correct.
Confirm your order and proceed to checkout or continue shopping.
Complete Purchase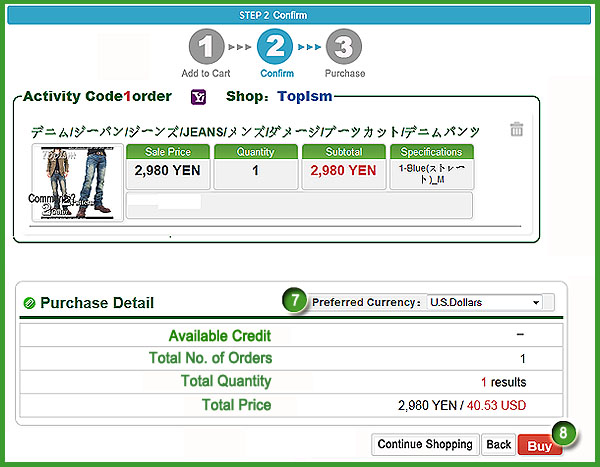 Once purchase is complete no withdrawal can be accepted. All items are evaluated in Japanese Yen.
You can convert your purchase details into your preferred currency using the selection menu on the top right.
Click the Buy button to complete the purchase.
Track Your Order

Once you have reached this stage, you have successfully purchased your item, depending upon your account balance. Mogan Shopping will handle the rest of your order for you. You will receive progress updates to your email, your Mogan account Inbox and within your Mogan Account. Your item will be sent to the specified address you entered into your Mogan Shopping account.
To view all your items, click the Add Track button on the item page, then go to My Account >Buying > Watch List
To check the status of each purchased item, please go to My Account > Buying > Purchased Detail
To view all your bid and buy item status, please go to My Account > Order Info > Order List
We sincerely hope your shopping experience is enjoyable and confortable and welcome any feedback, comments, opinions, suggestions and recommendations from you to continually improve your shopping experience through us.
Suggestions
You think this page helpful?
Yes No