This is the place where you can organize all your funding, personal information, direct messaging to us, send feedback, tracked your items or categories, (watch lists), winning bids, purchases etc. Furthermore you can configure various settings in particular, auto-system checkout, along with much more.
Personal Settings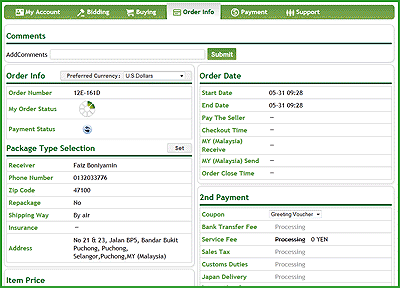 There are two pages where you can enter your personal information and account settings, My Account main page and in each Item Order Information page.
You can view and edit your Mogan account information, which includes your profile, account password and item receiver's address information. Please make sure you enter the correct address and contact information into your profile. This will be the default address and contact information if no such entry is entered into the Item Order Info page.
In addition, you can also view and edit your account settings to configure your bidding and buying watch list, along with your personal settings such as auto-system checkout, promotion info, time zone and Mogan service discount preference (if available).
When selecting an purchased item (via Inbox, or Order List) you will see the order tracking status, currency preference, order date, payment options, other fees (2nd payment breakdown), summary of your activities, and package type selection.
You can specify a particular address, contact details, shipping method and repackaging (for fragile items) for each item, before it reaches our Mogan Warehouse, under 'Package Type Selection'. If no details are specified we will use your profile information as the designated delivery address.
Account Balance & Payment Options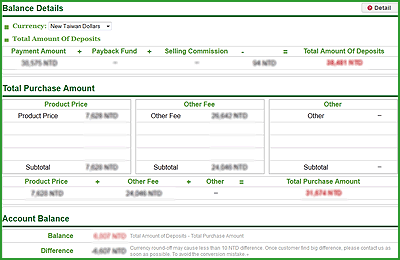 To review your account balance, please refer to 'My Account > Account Info > Accounting' to view a breakdown of your balance or go to 'My Account' main page to view a summary of your balance. To deposit funds into your Mogan account, please refer to payment options. To learn how to deposit funds, please refer to 1st payment. You will find a selection of payment options within 'My Account > Account Info > Deposit Info' or directly on the 'My Account' main page. There you will find instructions on each payment option along with where to place your deposit.
Order Status Alerts (Inbox)

To view the status of all your purchased items, please refer to 'My Account > Order Info > Order List' and click on any item for process status details. You will sometimes see pending item status alert at the top of the list, often requesting to complete the second stage payment or checkout to progress to the next stage. The latest 10 updates will be displayed within the 'My Account' main page.
Feedback & Testimonials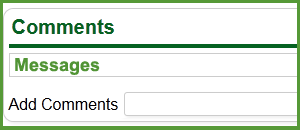 Once you have begun shopping and have purchased your first item, an open messaging forum will be made available. After clicking on any of your order numbers, you are then able to enter your message under 'Comments'. Upon receipt of your items, you can post any comments that may get posted onto the 'Feedback & Testimonial' area. This is entirely optional, however, we appreciate any comments, suggestions or feedback you may wish to send us. Your valued input will be used to improve our service for you.
Suggestions
You think this page helpful?
Yes No