Two Shipping Fees
Japan Domestic Delivery Fee: from seller to our Japan warehouse.
International Shipping Fee: from our Japan warehouse to your specified delivery address.
Japan Domestic Delivery Fee
This fee is charged from the seller. It is applied to all domestic delivery across Japan, based on the seller's choice of local delivery operator.
This fee is displayed on each item page and described within the sellers page."運送無料" means Free Japan Domestic Shipping Fee.
This fee is part of the 2nd Payment after checkout and can be tracked within your Mogan Shopping account.
An extra day is needed for delivering items to and from remote, outlying islands around Japan such as Hokkaido or Okinawa.
International Shipping Fee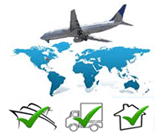 This fee includes all costs incurred to ship and deliver your purchased item(s) from our Japan warehouse to your specified address. Shipping will commence immediately once the 2nd Payment is transferred after checkout.
If your account balance is not sufficient to cover this payment, you will be requested to deposit the outstanding amount and checkout so shipping can commence as soon as possible.
Please try to ensure you have sufficient funds and checkout as soon as possible to streamline your shopping experience.
For some countries, there is limit for the size, we also like to encourage you to read the shipping policy carefully to ensure no shipping delays and please note the maximum weight for shipping by air is 30kg as listed below.
Consolidation Shipping
How We Can Consolidate Your Order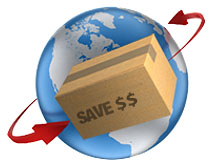 To consolidate your shipping order you must buy from the same seller of up to 10 items per order number during one sign-in purchasing session (up to 48 hours after first purchase), with open order status. If you buy from the same seller, they can send the items to us in one consolidated package, whereby it will be carefully delivered to you via consolidation shipping.
By doing so, we will co-work with the seller to:
combine the package for you to lower the overall shipping fee.
set a fixed service handling rate of only 900 YEN per order number.
apply a one-time charge for all shipping and service fees to reduce cost.
Why We Cannot Consolidate Your Order
We are unable to consolidate shipping orders of items from different sellers due to the following:
Items from different sellers would arrive to our warehouse at different times thus causing delays.
Such orders would need to be repackaged resulting in further delays and higher cost due to larger packaging.
Such repackaging has to meet Japan's Post Office packaging standards inspection otherwise it would be returned causing further delays.
Such repackaged orders have a higher likelihood of being inspected by customs due to the repackaging and mix of items from different sellers involved, thus causing further delays and possible damage.
Each item(s) from a different sellers would need to be charged separately (thus increasing your costs), unlike if it was from one Seller.
However, if you wish to purchase items from different sellers into your order, we will ship each sellers item(s) separately from our Japan warehouse to have them reach you as soon as possible. Thank you for understanding and cooperation.
EMS Shipping

EMS shipping is an internationally recognized operator. It also provides a protection policy against damaged or missing items during shipping. Therefore, if such an unlikely event occurs, you can claim back the item price as shown on the invoice. You can either contact us of go to your local post office to collect your EMS claims document as shown on the package. Please note, you will however, be required to cover the associated customer tax. For more details, please refer to:
or contact us via email.
Goodwill Gifts from Sellers
Sometimes the seller may add some small gift, catalog, snack, or souvenir. In this case, this may affect the weight of the item and thus the overall international shipping fee along with the seller's packaging. If you have any concern regarding the overall item weight or the weight is 1kg higher than you expected, please contact us before international shipping begins. By doing so, we can check the package and verify its weight for you. Otherwise, we will send the item to you in the original condition as we received it in.
Storage Safekeeping
Mogan shopping provide 28 days free safekeeping after the product been received in country,we charge 50 YEN per day for safekeeping to those who didn't square account over 28 days,we will discard product and won't return advance payment to those----who didn't square account over 60 days.
special charging standards
buy from all kinds of Japanese tickets:additional charge of 2,400 YEN handling fee.
The description for importing the wines -
The max. volume for each package is 4 KL for wine-purchasing.
Additional charge of 800 YEN applied to each bottle.
The buyer needs to bear the risk of damage possibility while delivery (The member/recipient needs to check with the post office for the responsibility for the compensation.)
The buyer needs to pay the import duty – about 40%.(The purchase needs to be for personal use. If not, the buyer needs to bear the possibility of 40% import duty, and the risk of confiscation by Customs.)
wine under 100ML, we charge 800 YEN for the handling fee for 10 bottles
We cannot accept alcohol merchandise from air freight or sea freight, we can only send by EMS.
International Shipping fee to Asia regions:
Latest Currency Rate:1.050.01010.29210.07140.01450.07830.00890.01370.22680.0140.31650.09280.00950.01540.0083currency:
Weight(Kg)
Ship by Air

(Only Taiwan)

Ship by Sea

(Only Taiwan)

Asia、China、Singapore EMS
0.5
342.00 YEN
1,743.00 YEN
1,500.00 YEN
1
684.00 YEN
1,743.00 YEN
2,200.00 YEN
1.5
1,026.00 YEN
1,743.00 YEN
2,800.00 YEN
2
1,368.00 YEN
1,743.00 YEN
3,400.00 YEN
2.5
1,710.00 YEN
1,743.00 YEN
3,900.00 YEN
3
2,052.00 YEN
1,743.00 YEN
4,400.00 YEN
3.5
2,275.00 YEN
2,033.50 YEN
4,900.00 YEN
4
2,600.00 YEN
2,324.00 YEN
5,400.00 YEN
4.5
2,925.00 YEN
2,614.50 YEN
5,900.00 YEN
5
3,250.00 YEN
2,905.00 YEN
6,400.00 YEN
6
3,900.00 YEN
3,486.00 YEN
7,400.00 YEN
7
4,550.00 YEN
4,067.00 YEN
8,200.00 YEN
8
5,200.00 YEN
4,648.00 YEN
9,000.00 YEN
9
5,850.00 YEN
5,229.00 YEN
9,800.00 YEN
10
6,500.00 YEN
5,810.00 YEN
10,600.00 YEN
11
6,776.00 YEN
6,391.00 YEN
11,400.00 YEN
12
7,392.00 YEN
6,972.00 YEN
12,200.00 YEN
13
8,008.00 YEN
7,553.00 YEN
13,000.00 YEN
14
8,624.00 YEN
8,134.00 YEN
13,800.00 YEN
15
9,240.00 YEN
8,715.00 YEN
14,600.00 YEN
16
9,856.00 YEN
9,296.00 YEN
15,400.00 YEN
17
10,472.00 YEN
9,877.00 YEN
16,200.00 YEN
18
11,088.00 YEN
10,458.00 YEN
17,000.00 YEN
19
11,704.00 YEN
11,039.00 YEN
17,800.00 YEN
20
12,320.00 YEN
11,620.00 YEN
18,600.00 YEN
21
12,936.00 YEN
12,201.00 YEN
19,400.00 YEN
22
13,552.00 YEN
12,782.00 YEN
20,200.00 YEN
23
14,168.00 YEN
13,363.00 YEN
21,000.00 YEN
24
14,784.00 YEN
13,944.00 YEN
21,800.00 YEN
25
15,400.00 YEN
14,525.00 YEN
22,600.00 YEN
26
16,016.00 YEN
15,106.00 YEN
23,400.00 YEN
27
16,632.00 YEN
15,687.00 YEN
24,200.00 YEN
28
17,248.00 YEN
16,268.00 YEN
25,000.00 YEN
29
17,864.00 YEN
16,849.00 YEN
25,800.00 YEN
30
18,480.00 YEN
17,430.00 YEN
26,600.00 YEN
Weight(Kg)
Ship by Japan Post Sea
(Asia、China、Singapore)
Ship by Japan Post Sea
(Southeast Asia、South-West Asia)
Ship by Japan Post Air
(Asia、China、Singapore)
Ship by Japan Post Air
(Southeast Asia、South-West Asia)
0.5
1,700.00 YEN
1,800.00 YEN
1,800.00 YEN
2,200.00 YEN
1
1,700.00 YEN
1,800.00 YEN
2,150.00 YEN
2,800.00 YEN
1.5
2,000.00 YEN
2,200.00 YEN
2,500.00 YEN
3,400.00 YEN
2
2,000.00 YEN
2,200.00 YEN
2,850.00 YEN
4,000.00 YEN
2.5
2,300.00 YEN
2,600.00 YEN
3,200.00 YEN
4,600.00 YEN
3
2,300.00 YEN
2,600.00 YEN
3,550.00 YEN
5,200.00 YEN
3.5
2,600.00 YEN
3,000.00 YEN
3,900.00 YEN
5,800.00 YEN
4
2,600.00 YEN
3,000.00 YEN
4,250.00 YEN
6,400.00 YEN
4.5
2,900.00 YEN
3,400.00 YEN
4,600.00 YEN
7,000.00 YEN
5
2,900.00 YEN
3,400.00 YEN
4,950.00 YEN
7,600.00 YEN
6
3,200.00 YEN
3,800.00 YEN
5,550.00 YEN
8,600.00 YEN
7
3,500.00 YEN
4,200.00 YEN
6,150.00 YEN
9,600.00 YEN
8
3,800.00 YEN
4,600.00 YEN
6,750.00 YEN
10,600.00 YEN
9
4,100.00 YEN
5,000.00 YEN
7,350.00 YEN
11,600.00 YEN
10
4,400.00 YEN
5,400.00 YEN
7,950.00 YEN
12,600.00 YEN
11
4,650.00 YEN
5,700.00 YEN
8,350.00 YEN
13,300.00 YEN
12
4,900.00 YEN
6,000.00 YEN
8,750.00 YEN
14,000.00 YEN
13
5,150.00 YEN
6,300.00 YEN
9,150.00 YEN
14,700.00 YEN
14
5,400.00 YEN
6,600.00 YEN
9,550.00 YEN
15,400.00 YEN
15
5,650.00 YEN
6,900.00 YEN
9,950.00 YEN
16,100.00 YEN
16
5,900.00 YEN
7,200.00 YEN
10,350.00 YEN
16,800.00 YEN
17
6,150.00 YEN
7,500.00 YEN
10,750.00 YEN
17,500.00 YEN
18
6,400.00 YEN
7,800.00 YEN
11,150.00 YEN
18,200.00 YEN
19
6,650.00 YEN
8,100.00 YEN
11,550.00 YEN
18,900.00 YEN
20
6,900.00 YEN
8,400.00 YEN
11,950.00 YEN
19,600.00 YEN
21
7,150.00 YEN
8,700.00 YEN
12,350.00 YEN
20,300.00 YEN
22
7,400.00 YEN
9,000.00 YEN
12,750.00 YEN
21,000.00 YEN
23
7,650.00 YEN
9,300.00 YEN
13,150.00 YEN
21,700.00 YEN
24
7,900.00 YEN
9,600.00 YEN
13,550.00 YEN
22,400.00 YEN
25
8,150.00 YEN
9,900.00 YEN
13,950.00 YEN
23,100.00 YEN
26
8,400.00 YEN
10,200.00 YEN
14,350.00 YEN
23,800.00 YEN
27
8,650.00 YEN
10,500.00 YEN
14,750.00 YEN
24,500.00 YEN
28
8,900.00 YEN
10,800.00 YEN
15,150.00 YEN
25,200.00 YEN
29
9,150.00 YEN
11,100.00 YEN
15,550.00 YEN
25,900.00 YEN
30
9,400.00 YEN
11,400.00 YEN
15,950.00 YEN
26,600.00 YEN
International Shipping fee to other continents regions:
Latest Currency Rate:1.050.01010.29210.07140.01450.07830.00890.01370.22680.0140.31650.09280.00950.01540.0083
Weight(Kg)
Oceania、North American、Central American、Middle East EMS
Europe、France、Italy EMS
South America、Africa EMS
0.5
2,100.00 YEN
2,300.00 YEN
2,500.00 YEN
1
3,000.00 YEN
3,300.00 YEN
4,200.00 YEN
1.5
3,800.00 YEN
4,200.00 YEN
5,800.00 YEN
2
4,600.00 YEN
5,100.00 YEN
7,400.00 YEN
2.5
5,300.00 YEN
5,900.00 YEN
8,900.00 YEN
3
6,000.00 YEN
6,700.00 YEN
10,400.00 YEN
3.5
6,700.00 YEN
7,500.00 YEN
11,900.00 YEN
4
7,400.00 YEN
8,300.00 YEN
13,400.00 YEN
4.5
8,100.00 YEN
9,100.00 YEN
14,900.00 YEN
5
8,800.00 YEN
9,900.00 YEN
16,400.00 YEN
6
10,200.00 YEN
11,500.00 YEN
19,400.00 YEN
7
11,300.00 YEN
12,800.00 YEN
21,500.00 YEN
8
12,400.00 YEN
13,100.00 YEN
23,600.00 YEN
9
13,500.00 YEN
15,400.00 YEN
25,700.00 YEN
10
14,600.00 YEN
16,700.00 YEN
27,800.00 YEN
11
15,700.00 YEN
18,000.00 YEN
29,900.00 YEN
12
16,800.00 YEN
19,300.00 YEN
32,000.00 YEN
13
17,900.00 YEN
20,600.00 YEN
34,100.00 YEN
14
19,000.00 YEN
21,900.00 YEN
36,200.00 YEN
15
20,100.00 YEN
23,200.00 YEN
38,300.00 YEN
16
21,200.00 YEN
24,500.00 YEN
40,400.00 YEN
17
22,300.00 YEN
25,800.00 YEN
42,500.00 YEN
18
23,400.00 YEN
27,100.00 YEN
44,600.00 YEN
19
24,500.00 YEN
28,400.00 YEN
46,700.00 YEN
20
25,600.00 YEN
29,700.00 YEN
48,800.00 YEN
21
26,700.00 YEN
31,000.00 YEN
50,900.00 YEN
22
27,800.00 YEN
32,300.00 YEN
53,000.00 YEN
23
28,900.00 YEN
33,600.00 YEN
55,100.00 YEN
24
30,000.00 YEN
34,900.00 YEN
57,200.00 YEN
25
31,100.00 YEN
36,200.00 YEN
59,300.00 YEN
26
32,200.00 YEN
37,500.00 YEN
61,400.00 YEN
27
33,300.00 YEN
38,800.00 YEN
63,500.00 YEN
28
34,400.00 YEN
40,100.00 YEN
65,600.00 YEN
29
35,500.00 YEN
41,400.00 YEN
67,700.00 YEN
30
36,600.00 YEN
42,700.00 YEN
69,800.00 YEN
Weight(Kg)
Ship by Japan Post Sea
(Oceania、North American、Central American、Middle East EMS)
Ship by Japan Post Sea
(Europe、France、Italy)
Ship by Japan Post Sea
(South America、Africa)
0.5
1,900.00 YEN
1,900.00 YEN
2,300.00 YEN
1
1,900.00 YEN
1,900.00 YEN
2,300.00 YEN
1.5
2,450.00 YEN
2,450.00 YEN
2,750.00 YEN
2
2,450.00 YEN
2,450.00 YEN
2,750.00 YEN
2.5
3,000.00 YEN
3,000.00 YEN
3,200.00 YEN
3
3,000.00 YEN
3,000.00 YEN
3,200.00 YEN
3.5
3,550.00 YEN
3,550.00 YEN
3,650.00 YEN
4
3,550.00 YEN
3,550.00 YEN
3,650.00 YEN
4.5
4,100.00 YEN
4,100.00 YEN
4,100.00 YEN
5
4,100.00 YEN
4,100.00 YEN
4,100.00 YEN
6
4,650.00 YEN
4,650.00 YEN
4,550.00 YEN
7
5,200.00 YEN
5,200.00 YEN
5,000.00 YEN
8
5,750.00 YEN
5,750.00 YEN
5,450.00 YEN
9
6,300.00 YEN
6,300.00 YEN
5,900.00 YEN
10
6,850.00 YEN
6,850.00 YEN
6,350.00 YEN
11
7,200.00 YEN
7,200.00 YEN
6,700.00 YEN
12
7,550.00 YEN
7,550.00 YEN
7,050.00 YEN
13
7,900.00 YEN
7,900.00 YEN
7,400.00 YEN
14
8,250.00 YEN
8,250.00 YEN
7,750.00 YEN
15
8,600.00 YEN
8,600.00 YEN
8,100.00 YEN
16
8,950.00 YEN
8,950.00 YEN
8,450.00 YEN
17
9,300.00 YEN
9,300.00 YEN
8,800.00 YEN
18
9,650.00 YEN
9,650.00 YEN
9,150.00 YEN
19
10,000.00 YEN
10,000.00 YEN
9,500.00 YEN
20
10,350.00 YEN
10,350.00 YEN
9,850.00 YEN
21
10,700.00 YEN
10,700.00 YEN
10,200.00 YEN
22
11,050.00 YEN
11,050.00 YEN
10,550.00 YEN
23
11,400.00 YEN
11,400.00 YEN
10,900.00 YEN
24
11,750.00 YEN
11,750.00 YEN
11,250.00 YEN
25
12,100.00 YEN
12,100.00 YEN
11,600.00 YEN
26
12,450.00 YEN
12,450.00 YEN
11,950.00 YEN
27
12,800.00 YEN
12,800.00 YEN
12,300.00 YEN
28
13,150.00 YEN
13,150.00 YEN
12,650.00 YEN
29
13,500.00 YEN
13,500.00 YEN
13,000.00 YEN
30
13,850.00 YEN
13,850.00 YEN
13,350.00 YEN
Weight(Kg)
Ship by Japan Post Air
(Oceania、North American、Central American、Middle East EMS)
Ship by Japan Post Air
(Europe、France、Italy)
Ship by Japan Post Air
(South America、Africa)
0.5
2,600.00 YEN
2,600.00 YEN
3,300.00 YEN
1
3,450.00 YEN
3,450.00 YEN
4,700.00 YEN
1.5
4,300.00 YEN
4,300.00 YEN
6,100.00 YEN
2
5,150.00 YEN
5,150.00 YEN
7,500.00 YEN
2.5
6,000.00 YEN
6,000.00 YEN
8,900.00 YEN
3
6,850.00 YEN
6,850.00 YEN
10,300.00 YEN
3.5
7,700.00 YEN
7,700.00 YEN
11,700.00 YEN
4
8,550.00 YEN
8,550.00 YEN
13,100.00 YEN
4.5
9,400.00 YEN
9,400.00 YEN
14,500.00 YEN
5
10,250.00 YEN
10,250.00 YEN
15,900.00 YEN
6
11,750.00 YEN
11,750.00 YEN
18,300.00 YEN
7
13,250.00 YEN
13,250.00 YEN
20,700.00 YEN
8
14,750.00 YEN
14,750.00 YEN
23,100.00 YEN
9
16,250.00 YEN
16,250.00 YEN
25,500.00 YEN
10
17,750.00 YEN
17,750.00 YEN
27,900.00 YEN
11
18,700.00 YEN
18,700.00 YEN
29,500.00 YEN
12
19,650.00 YEN
19,650.00 YEN
31,100.00 YEN
13
20,600.00 YEN
20,600.00 YEN
32,700.00 YEN
14
21,550.00 YEN
21,550.00 YEN
34,300.00 YEN
15
22,500.00 YEN
22,500.00 YEN
35,900.00 YEN
16
23,450.00 YEN
23,450.00 YEN
37,500.00 YEN
17
24,400.00 YEN
24,400.00 YEN
39,100.00 YEN
18
25,350.00 YEN
25,350.00 YEN
40,700.00 YEN
19
26,300.00 YEN
26,300.00 YEN
42,300.00 YEN
20
27,250.00 YEN
27,250.00 YEN
43,900.00 YEN
21
28,200.00 YEN
28,200.00 YEN
45,500.00 YEN
22
29,150.00 YEN
29,150.00 YEN
47,100.00 YEN
23
30,100.00 YEN
30,100.00 YEN
48,700.00 YEN
24
31,050.00 YEN
31,050.00 YEN
50,300.00 YEN
25
32,000.00 YEN
32,000.00 YEN
51,900.00 YEN
26
32,950.00 YEN
32,950.00 YEN
53,500.00 YEN
27
33,900.00 YEN
33,900.00 YEN
55,100.00 YEN
28
34,850.00 YEN
34,850.00 YEN
56,700.00 YEN
29
35,800.00 YEN
35,800.00 YEN
58,300.00 YEN
30
36,750.00 YEN
36,750.00 YEN
59,900.00 YEN